We have over 30 years' experience in the design and fabrication of hard tools. We manufacture custom stamped components through
Deep drawing
Coining
Blanking
Thin drawing
Extruding
When re-designing parts for production, we would always consider using power presses to reduce lead times and minimise the cost of parts, which adds real value for customers who work with us.
High Volume Production
For high volume applications we have a Manzoni 500 Ton Press, an Aida 250 Ton Press and an Aida 200 Ton Press – coil fed, with decoilers and coil straighteners, which are set up to use progression tools. We have manufactured components such as chassis for APC & Dell and Hard Drive covers for Seagate.
Low to Medium Volume Production
Where high volume is not required, we have a range of 20 to 500 Ton Single Hydraulic Power Presses for manually operated tools. We work in many raw materials: carbon steel, stainless steel, brass, copper & aluminum.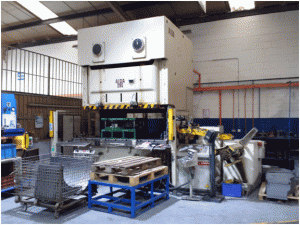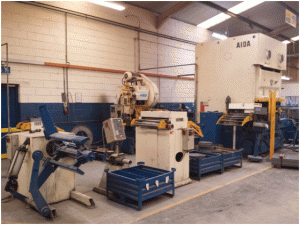 Other Relevant Services
In addition to our state-of-the-art Power Press equipment, Fabricated Products offers a full set of related services including CNC Forming, and CNC Punching. All machines and tools have their own Preventative /Maintenance schedules, which are carried out by skilled operators.
Why not give us a call to discuss how our capabilities might meet your needs?