The Engineering Department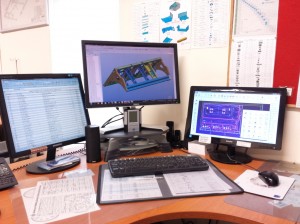 We offer customers across the UK and Ireland;
the highest quality sheet metal engineering service
technical assistance in product design
cost-effective solutions.
We have a team of highly skilled engineering/project management staff who take the time to understand what the customer needs and to then meet or exceed expectations.
Fabricated Product's Engineering Department specialises in taking your sheet metal components from design through to finished product strictly in accordance to the agreed specifications. By helping our customers in the development of new products, we hope to build lasting relationships and trust. We have years of experience that we share with our customers, to add value to their proposed job. Prototypes, samples Jigs and fixtures are offered at competitive prices and with quick lead times. By offering low start-up costs, we can contribute to the success of your application. Our Engineers constantly seek ways to effectively cut costs while maintaining the highest quality standards.
Feel free to Email our Engineering Department directly to convey questions or comments to our regarding your sheet metal engineering requirements.
Rapid Prototyping
When it comes to prototyping, time is usually of the essence and our ability to produce prototypes  – speedily, to the required specification and at an extremely competitive price –  is probably second to none in the marketplace.
Prototyping Process
Our ability to provide customers with prototypes, to spec and on time has separated us from other companies in the market.
We can import your 3D files into Pro Engineer and use our bend allowance tables to develop flat patterns for CNC programming. This process ensures the proper transfer of data and allows us to implement the geometry directly from your designs.
Using supplied 3D models reduces any potential for errors in programming and it also reduces the
programming time required in advance of manufacture i.e. we can turn around the work speedily.
Our preferred format for file transfer are native Pro E files, however if these cannot be supplied, Step or Iges files can be submitted. These can be emailed or sent via Dropbox or uploaded via our FTP facility (address and password available on request).
We use Wicam to write the CNC programs for punching. The auto tooling and auto nesting functions in Wicam are extremely powerful and will ensure that you will have the best utilisation of
materials and tools in your nests. Tool paths are optimised to reduce punching time.
We have a direct link between Pro Engineer and Wicam, which means we could have your parts programmed and nested in a matter of minutes depending on the complexity of the part.
When a prototype is sent through our facility, a project Engineer is assigned to it and all quality and manufacturing processes will be upheld in order to deliver the exact product you have designed.
A First Article Inspection Report (FAIR) or a Production Part Approval Process (PPAP) documentation can be sent with the prototypes if requested.
Documentation Control
All drawings and Specification sheets are kept on a central server, assessed by the Engineering Dept. only and password protected.
Drawings issued to the floor are printed from the central server, and these are destroyed after use.
This is just one element of our robust version control process which ensures that the operator always works off the latest drawing. Engineering Change Orders (ECOs) are implemented strictly in accordance with ISO9001.
Learn more about our comprehensive set of Capabilities and please do contact us to discuss your requirements in terms of sheet metal engineering, component manufacture and prototyping.