Fabricated Products offers a pipe/tube bending and forming service using a fully CNC tube bending machine from Addison Mckee. Our tube forming service is delivered to clients across the UK, Ireland and Worldwide.
This specialised piece of equipment is a fully automatic, high performance draw bending machine designed for the accurate and repeatable production of tubular components with an outside diameter of up to 75mm. We can form tubes of square, rectangular and flat-sided oval sections.
We provide precision pipe and tube bending and other structural forming with
Steel
Stainless Steel
Aluminium
We have an extensive selection of bending equipment and dies to ensure rapid turn-around for specialised sizes and profiles.
All of our formed tubes are checked with custom-built check fixtures and jigs which are designed in-house and made to deliver the customers required tolerances.
In addition to our Tube/Pipe Bending equipment, Fabricated Products offers a full set of related services including tube punching, tube trimming, beading and flanging.
Range of Applications
We make a range of mufflers for the transport refrigeration industry.  They are made from 409 stainless steel for long life and are capable of withstanding the most severe weather conditions. They have a straight through tube wrapped in a perforated stainless core and are packed tight with a high temperature acoustic fibre filling. We can ship these with either a polished or natural finish as the appearance is a secondary consideration to mechanical properties and corrosion resistance.
We also have tube end forming equipment for a variety of applications such as expanding and reducing, beading, flaring, sizing, notching, parting & end trimming. We design and make all our own tube punching tools in house.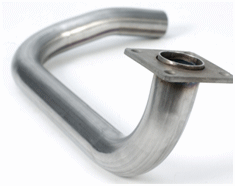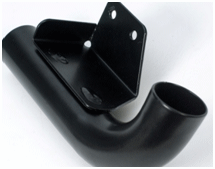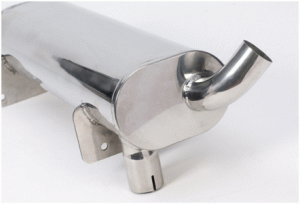 Contact Fabricated Products
Learn more about our comprehensive set of Capabilities and please do contact us to discuss your tube bending requirements.