Fabricated Products offers precision machining & turning services to clients across the UK, Ireland and Internationally. Our machine shop services a wide range of industries including; Transport Refrigeration, Medical Devices, Filtration, Electronics, Telecommunications, Military and Aviation.
Our  CNC machining services include;
CNC Milling
CNC Turning
General Machining
Precision machined components
Screw machine parts
Surface grinding.
The Capabilities of our CNC machine shop include:
Compliance with the quality standards of ISO 9001:2008.
CNC precision machining centres to produce the highest quality in our work.
Mastercam 3D software to generate programs for fast and efficient milling and turning.
Personal attention is given to our machine operators to fulfil any and all training and design requirements.
Lean manufacturing capabilities to enable higher production volumes at reduced costs.
The List of equipment include the following:
Bridgeport Quaser MV 154 E Vertical Machining Centre, Heidenhain TNC620, travel 700mm x 530mm x 560mm, 30 (48 & 60)*atc, 12,000 min-1/18.5kW
Bridgeport VMC600/22, Digital, Heidenhain TNC410, Table 840 x 420mm, Travel 600 x 410 x 520mm, 22atc, bt40, 6,000rpm.
Bridgeport Interact 516 Vertical Machining Centre, Heidenhain TNC155, travel 510mm x 400mm x 480mm
Microcut 837 Milling Machine, C/w Accu-rite DRO system, 10″ x 50″ table
HITACHI SEIKI Hitec-Turn HT20 SII Cnc lathe, Heidenhain TNC410
COLCHESTER TRIUMPH 2000 15″ x 30″ GAP BED CENTRE LATHE 2″ Spindle Bore : 16 Speeds 25 – 2000rpm : QCTP & Holders : 3 & 4 Jaw Chuck : Mitutoyo 2 Axis DRO.
Mori-Seiki DuraTurn 2550 2-Axis CNC Lathe. Work envelope φ370 x 513 mm(DuraTurn2550), Bar work capacity φ80 mm
Jones & Shipman 6″ x 18″ surface grinder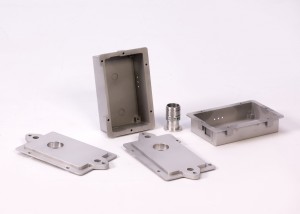 Contact Us for a Competitive Quote
In addition to our state-of-the-art CNC MACHINING equipment, Fabricated Products offers a full set of related services including Deburring, Bead Blasting and Plating.